Contest Instagram - Dakar 2023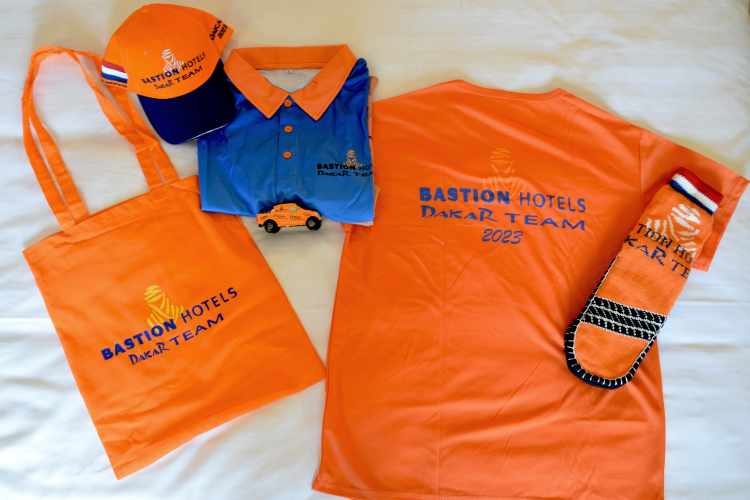 Have a chance to win a hotel stay for 2 people, 2 VIP tickets for the Dakar Preprologue 2023 & 2x a Merchandise Package! 🏁
HOTEL STAY, VIP TICKETS PREPROLOGUE 2024 AND THE DAKAR MERCHANDISE PACKAGE
The tickets give access to the Preprologue 2023 in the Netherlands. Nothing is known about the location, dates and times yet. The winners will be added to the guest list of Bastion Hotels. When more is known, you will receive an e-mail to confirm your presence at the Preprologue
The merchandise package consists of a Bastion Hotels Dakar Team bag, a Dakar cap signed by Maik Willems, 2 different Bastion Hotels Dakar Team T-shirts in size L, Bastion Hotels Dakar Team socks and a miniature Toyota Hillux
One night in a hotel for 2 persons incl. breakfast in a Bastion Hotel of your choice
The price cannot be combined with other promotions, discounts or offers
The prize is personal and is in the name of the winner. The prize cannot be transferred, exchanged or paid out in cash or for other products or services
PARTICIPATION
You can only participate in the giveaway via Instagram
To be in with a chance you must guess the answer correctly or be closest to the correct answer, tag a friend in the comments, and follow both the Instagram accounts @bastionhotelscom and @2dakar_nl
You can participate until 01-01-2023
By participating in the promotion, participants consent to the online publication of their name if they are selected as the winner
Employees of Bastion Hotels are excluded from participation
Bastion Hotels reserves the right at all times to terminate the promotion and not to pay out a prize, if there is reason to do so
If there is any suspicion of fraud, Bastion Hotels is entitled to exclude participant(s) from participation
Bastion Hotels is in no way liable for any damage resulting from participation in the competition, nor for any technical malfunctions, defects or delays with regard to participation in the competition or the designation of the winners.
CEREMONY
The winner will be notified via Instagram.
You will be contacted about sending the prize and registering for the Preprologue 2023
No correspondence can be entered into about the result and award of the prize.
By participating in the promotion, the participant declares to agree with the above promotion conditions.
Do you have any questions or comments about the giveaway? Please contact Bastion Hotels via the contact form .
Lowest Price Guarantee
When you book directly via Bastionhotels.com, we can guarantee you the lowest price for your stay.
Free parking
Bastion Hotels always provides parking spaces. Parking is free at almost all of our hotels.
Free WiFi
Free WiFi in all Bastion Hotels, rooms included.