About us
The hospitable expert in business stays
With love for their profession our staff is working every day to see our guests leaving the Bastion Hotel with a big smile. A packed lunch, a check-in at 01:00 am to a price agreement for a project, we take the business needs of our guests seriously. We do this by also taking in mind to create 'a home away from home feeling' and give our guests personal attention. With 30 years experience we know what the wishes and needs are of our business guests. This is the reason we can call ourselves thé expert in business stays. The basis of this expertise has already been laid in the last century by the founder of Bastion Hotels.
The golden combination for travelers
In the seventies and eighties Leonard Van Veldhoven made as an architect many travels in the United States. Passing through the country, he saw how the many motels were perfect adapted to travelers and business guests. The affordable motels were at easily accessible roads, they had plenty of free parking and were open 24/7. In other words they were comfortable, good priced, efficient and flexible. The golden combination for the traveler in the United States. Van Veldhoven noticed that this hotel formula did not exist yet in the Netherlands and so he came up with the idea of ​​a new, innovative Dutch hotel chain. Since 1986 Van Veldhoven builed the first hotels beside well-connected roads and at a short distance from city centers in the Netherlands. Besides the good accessibility, the hotels offered the traveler plenty of (free) parking and a 24-hour reception. The formula also appeared to work in the Netherlands. The result? The number of Bastion Hotels quickly grew.
Personal attention and service
In 1995 Maik Willems was appointed as interim manager. His mission? Expand the concept of Bastion Hotels and even better meet the needs of today's guest. Within one year Willem's became director/ owner and continues to expand Bastion Hotels in the Netherlands and Germany. Nowadays the hotels also offer guests free wireless internet and other amenities for both the business guest who wants to work during their stay, as the guest who wants to relax in their spare time. Combined with a profitable price, this makes that many guests choose for Bastion Hotels every day. The motto of Willems is: "Our hotels offer personal atmosphere, hospitality, comfort and good facilities for an attractive price."
An unique aspect of our hotel chain is that all the 33 hotels are owned by Bastion Hotels. Everything is centrally organized from the head office. This enables us to guarantee the same quality in all our hotels and we are able to offer personalized service to our customers. With hotels from Groningen to Maastricht and one in Germany, the chain have more than 3,000 rooms. And this number continues to grow. This makes Bastion Hotels the largest independent hotel chain in the Netherlands at this moment.
Online booking convenience
Bastion Hotels has integrated the golden combination comfortable, efficient, flexible and profitable prices also in her website. Our goal? Give our guests the best online booking convenience. As the first hotel chain in the Netherlands, Bastion Hotels introduced 'Business Accounts' to her guests. This booking tool is specially designed so business guests are able to book and manage their stays easier, faster and more flexible. With an account you can easily change or add guests to a reservation or pay using various payment methods, such as post-billing. A reservation is made in 3 minutes. And if you make a reservation via our own website, you are 100% guaranteed of the lowest price. In this way we ensure that guests enjoy from the many benefits of Bastion Hotels, also online.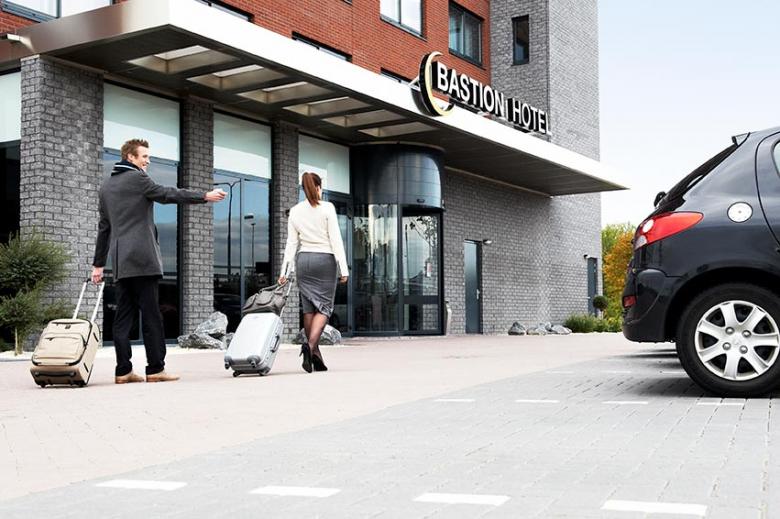 Bastion Hotel business