At these Bastion Hotels you can now sleep in a king-size double bed!
17 May 2022
Bastion Hotels now has more hotels with king-size beds of 2 metres wide! In most hotels you could until now only book rooms with 2 single beds, which can be put together on request. In Bastion Hotel Maastricht, Apeldoorn, Arnhem and Nijmegen we have king-size beds available for some time now and they are very popular. In order to make the stay at Bastion Hotel even more comfortable, we are expanding with Deluxe King rooms!
Even more king-size beds at Bastion Hotels
From today onwards you can find extra wide beds at the following hotels as well: 
Bastion Hotel Amsterdam Zuidwest
Bastion Hotel Amsterdam Amstel
Bastion Hotel Breda
Bastion Hotel Eindhoven
Bastion Hotel Tilburg 
Bastion Hotel Utrecht 
Bastion Hotel Den Haag Rijswijk
Bastion Hotel Haarlem Velsen 
Would you like to sleep in an extra wide room? Then choose while booking for a Deluxe or Comfort King room.
Bastion Hotel Amsterdam Amstel 
Bastion Hotel Amsterdam Amstel is ideally situated along the A10 ring road. Because of the central location of the hotel the Amsterdam RAI, Ziggo Dome and Amsterdam ArenA are easily accessible. You can park your car or work bus for free at the hotel.

Bastion Hotel Eindhoven 
This hotel is situated on the outskirts of Eindhoven, on the A2/A67 motorway. This hotel has spacious Deluxe and Deluxe king rooms with a modern bathroom with rain shower and work desk.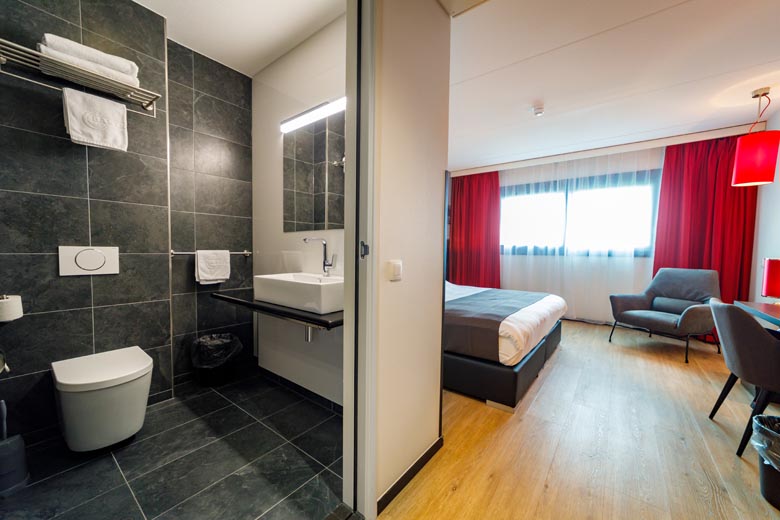 Bastion Hotel Haarlem Velsen
This renovated hotel is located near the beaches of IJmuiden and Zandvoort, on the A9/N208. You can park your car for free in front of the hotel and then relax in the new Deluxe King rooms!