We've made it easier to book a hotel on BastionHotels.com!
07 September 2018
At Bastion Hotels, we're continuously working on improving the experience of our guests. On the one hand, we do so by renovating and modernising our hotel rooms, and on the other hand simplifying the reservation process on BastionHotels.com. On a monthly basis, thousands of hotel rooms are booked through our website, and by adding new functionalities we make sure that you can make  a reservation much quicker ánd easier. In this way, you don't lose valuable time when booking a hotel and save more time for more important business!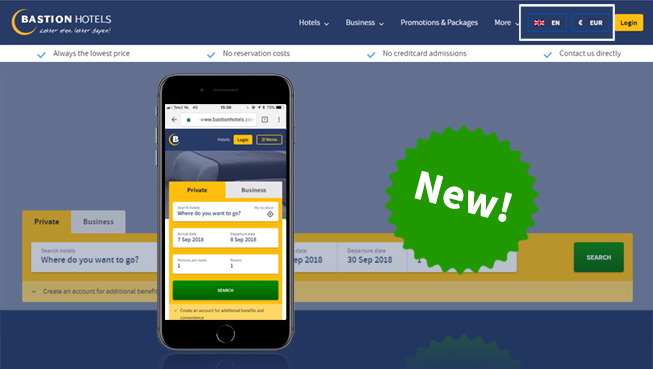 To make it much easier to book a hotel via BastionHotels.com, we try to update and improve our website on a regular basis. We make an effort in simplifying the booking process for our guests so that you have more time for important matters, like preparing that big business meeting or finding interesting hotspots in the city of your destination. We've introduced a couple of new features on our website in the last couple of weeks that we'd like to share with you.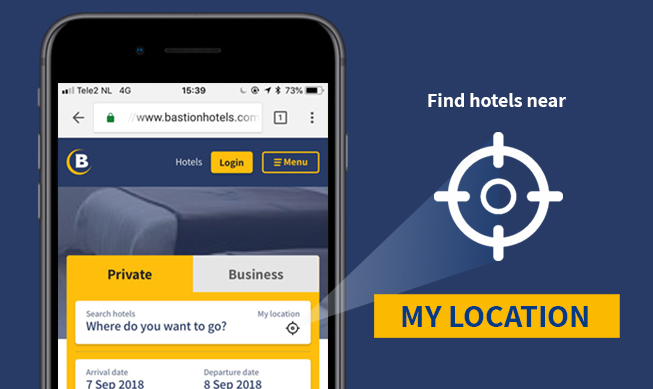 Find hotels near your location
Are you temporarily located in the Netherlands or visiting the country for a holiday or business? With 32 hotels in the Netherlands and 1 hotel in Germany, there's always a Bastion Hotel nearby where you can enjoy a comfortable stay for an affordable price. Would you like to know where you can find the nearest Bastion Hotel? We've introduced a new 'My Location' function on our website that enables you to find all Bastion Hotels near your location with a single tap on your screen when using a smartphone or tablet. This feature is also very useful when you're staying in a Bastion Hotel and you'd like to know more about the amenities in that particular hotel. Through our website, you'll quickly find all the information you need!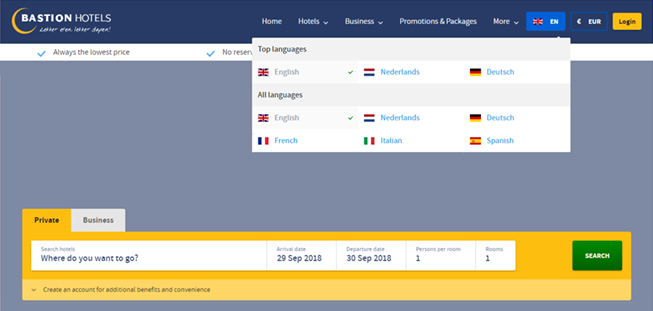 Visit the website in different languages
As Bastion Hotels welcomes guests from all over the world, we'd like to make it easier for everyone to book a hotel room through our website. Whether you're visiting the country for a holiday or business trip, we want to make sure that making a reservation on BastionHotels.com is as simple as possible. That's why you can visit our website in multiple languages, like English, German or Spanish. Our international guests can select their preferred language to make it easier to find a hotel that meets their wishes and complete their booking. As of this moment, you can visit our website in six different languages, and naturally we'll keep adding new languages in the future.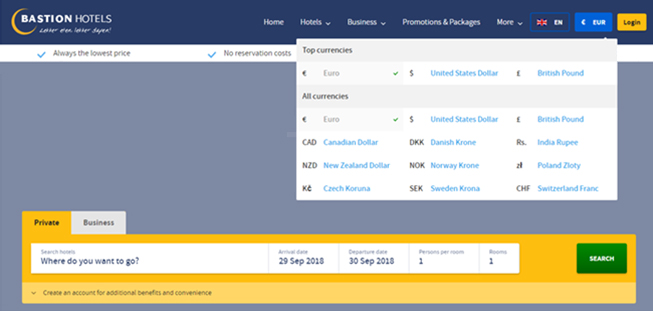 Display prices in other currencies
In addition to adding foreign languages for our international visitors, we also make sure that the communication of our rates is as clear as possible. For this reason, we've introduced the possibility to display our prices in other currencies, like British pounds and American dollars. We've recently added 9 extra currencies, like Polish zloty's (PLN), Indian rupees (INR) and Danish kroner (DKK). As a visitor of BastionHotels.com, you can view our prices in your own preferred currency without having to convert them with the current exchange rates. This makes it much easier to compare prices when booking a hotel! Naturally, we'll keep expanding the number of currencies on our website, so we can offer an optimal user experience to all international visitors of our website.
Would you like to experience these newly introduced features by yourself? Start by booking your stay at Bastion Hotels!